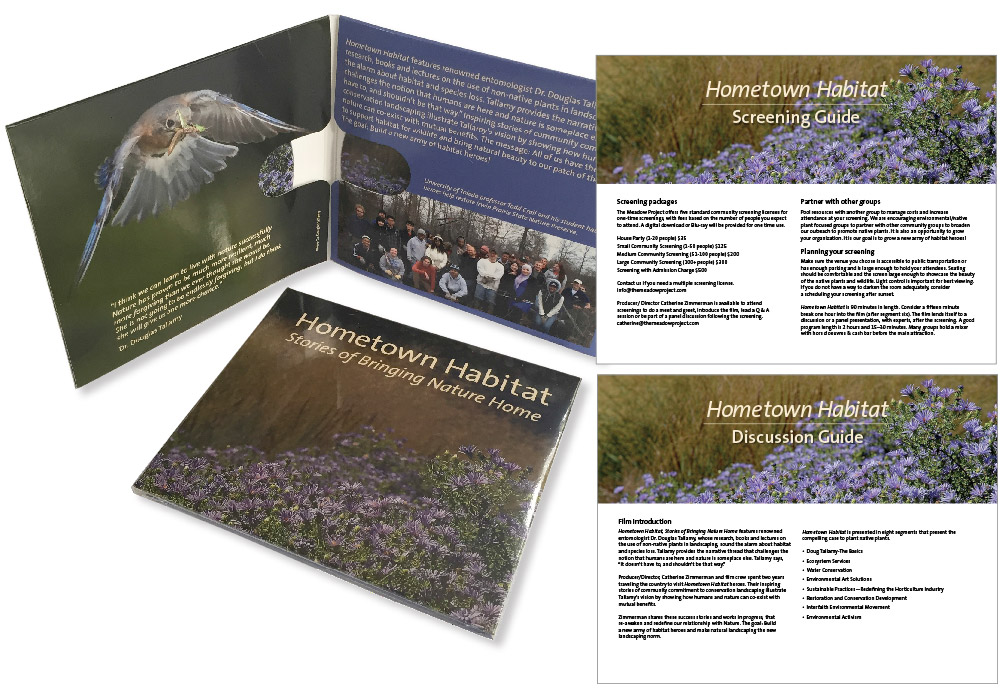 Hometown Habitat Press Kit
Thank you for planning a screening event for Hometown Habitat, Stories of Bringing Nature Home. The Meadow Project offers five standard community screening licenses for one-time screenings, with fees based on the number of people you expect to attend. A digital download or Blu-ray will be provided for one time use. Multiple screening rates also available.
We receive many requests to use all or parts of the film at no cost. Due to production costs and ongoing educational film work, we must charge fees for the use of  The Meadow Project's film productions.
House Party (1-20 people) $35
(No multiple screening rate)
Small Community Screening (1-50 people) $125
(Multiple screening rate $100 per screening)
Medium Community Screening (51-100 people) $200
(Multiple screening rate $150 per screening)
Large Community Screening (100+ people) $300
(Multiple screening rate $250 per screening)
Screening with Admission Charge $500
(Multiple screening rate $400 per screening)
Please download the press kit resources to assist you in getting press coverage, increasing attendance and widening the interest in planting native plants. We want to go beyond the "choir"-folks already on board with natural landscaping—and help grow a new army of habitat heroes!
One way to do this is to try partnering with another organization in your community not actively involved in gardening with native plants. It could be a library, congregation, Chamber of Commerce, school or community association. Your screening event is an opportunity for you to inspire attendees to plant native plants and grow your organization's membership.
Don't hesitate to contact us at info@themeadowproject.com with questions or help with your event. Please give us details so we can post your event on the event calendar. Two weeks before your event, contact us for the link to download the digital, high-resolution file for best quality screening. If you are holding a screening in a theater you will need the Blu-ray version. Just let us know and we will send a loaner disk to be returned after the screening.
Producer/ Director Catherine Zimmerman is available to attend screenings to do a meet and greet, introduce the film, lead a Q & A session or be part of a panel discussion following the screening. info@themeadowproject.com
Thank you for being part of the effort to raise awareness about native plants and conservation landscaping.